Products:
We are currently looking at offering a few products which we have either developed or are looking at developing and require feedback. If you are interested in a design that is not currently avaliable, this is your chance to offer your ideas on what could be included.


Atmel ATmega Micro board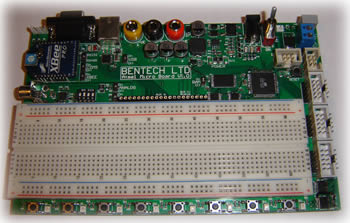 This is a development board we have designed for the 64pin range of ATmega microcontrollers including the 128, 165, 325 and 645. The board was designed with our own development in mind so it should prove to be a good tool for many others. It includes features such as:
Switch Mode Power Supply from a 6 - 40V AC/DC input with selectable 5V and 3.3V output.
RS232 and RS485 serial communications
USB communications
Optional XBee wireless module support
Analog in with selectable gain
32kB onboard RAM
Mains control via the isolated onboard triac switch
User interface including 8 pushbuttons paired with 8 LEDs
Board mounted breadboard
Additional connections include 3 8-bit I/O ports and a SPI bus.