Logical Excellence at it's best...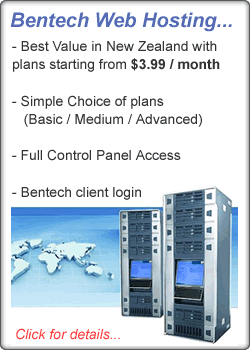 Bentech is a NZ owned and operated Electronic Design company offering premium electronic design services especially taylored for New Zealand businesses. Take time to check out our services, and find out a bit more about us.

Web Hosting:
Bentech now offers the best deal on simple web hosting in New Zealand! Whether its a simple web-flyer or a large business website, Bentech Web Hosting is the best value around.
Web Design:
Bentech can offer web design services for simple websites at very competitive rates. If you have a project and want a website up fast, we can get it done. Contact us for more information.
Electronic Design:
Click here for a list of our services, which include most aspects of the design process including schematic and PCB design, PCB productions and firmware and software development.
If you would like more information, please contact us.
Our time is currently Sunday 19th of May 2013 01:01:24 PM